The most festive time of the year is on the approach! With three major holidays on our doorstep – Halloween, Bonfire Night and Christmas - everyone starts to make party plans, and what party can be considered truly festive without seasonal and themed food?
Around this time, all pet owners are duly reminded of the dangers certain human foods pose to our beloved companions. In particular, we're cautioned about Halloween chocolate, food on kebab skewers on Bonfire Night, and anything containing alcohol or raisins around Christmas such as mince pies or Christmas pudding.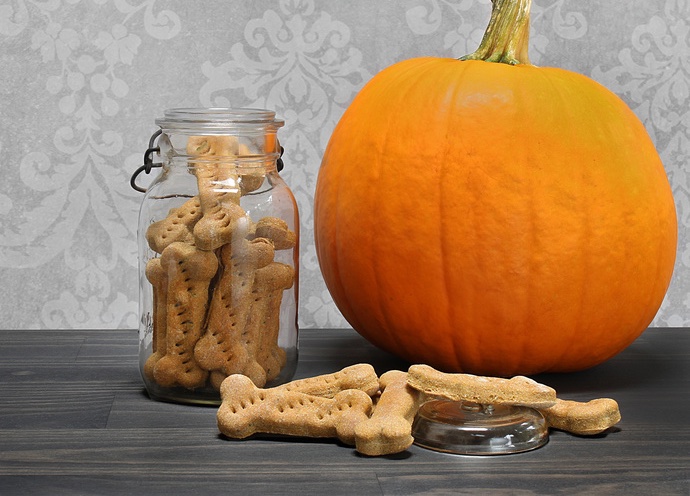 That said, we are surely all familiar with those puppy dog eyes - that wide eyed plea that our dogs fixate on us when they want something! It can sometimes be difficult to resist their doe eyed demands when we are feasting on seasonal goodies ourselves. Instead of risking your pets' health, how about stocking up on dog friendly holiday treats instead?
Many supermarkets and pet stores are now offering themed treats for each of the upcoming holidays. However, if you're more into the idea of homemade rather than store bought, as The Dog People state, you can make your own treats! Here are a few festive ideas your four legged pal might enjoy.
Halloween Treats
This may surprise you, but your Jack-o-Lantern isn't just decorative! Pumpkin isn't just a super versatile and nutritional autumn veg for us humans, as it is also very beneficial for dogs' health. Pureed pumpkin with no added sugar is full of fibre, low in fat and has plenty of minerals such as magnesium and iron, as well as a healthy dose of vitamins A and C.
Try adding some pureed pumpkin to some shredded carrot, some whole wheat flour and an egg to bind. Roll out and shape as you'd like - bearing in mind the size of your canine and the size of their regular treats - then bake on a low to medium heat for between 30 - 35 minutes. Leave to cool before offering this trick-free treat to your dog.
Alternative pumpkin recipes can easily be found online and can include peanut butter, bananas, honey, and oatmeal.
Bonfire Night
To many, Bonfire Night means toffee apples and Yorkshire parkin! Keep the apple theme going with your homemade dog treats by mixing unsweetened apple puree with wholewheat flour and rolled oatmeal, and egg and a small blob of melted coconut butter.
You can add a dash of vanilla extract, too. Roll out, shape as required, and bake on medium-high temperature for roughly 20 minutes.
Remember, apples can be good for your pets providing that the seeds and cores are removed. They have a healthy dose of vitamins and minerals, especially vitamin C, and like pumpkin, they are full of fibre and low in fat - so they can help dogs with digestive troubles.
Christmas
Many of us get very excited about the festive season, with some of us starting to plan Christmas dinner in mid-August! Making Christmas dinner for the whole family means making sure your furry friends have an extra special treat or two in their stockings, too.
Warm spices and dried fruits and nuts are everywhere and in everything at Christmas. Unfortunately many spices and dried fruits can be toxic to dogs – so be sure to avoid them at all costs!
However, ginger can actually help your dog's health, especially if they are starting to go grey around the muzzle. Ginger has many health benefits for humans, and you may be surprised to learn that it has even more benefits for dogs. Ginger has anti-inflammatory properties, so it can help older pups who may be suffering from arthritis. It can also help with nausea and bloating.
For a pet-friendly gingerbread biscuit treat, mix some wholewheat flour with ground ginger, honey, warm water and light olive oil. Mix, shape and bake on medium to high temperature for about 20 mins and allow to cool completely.
Happy Baking!
Please remember that, like us, some dogs can suffer allergies and many older dogs have special dietary requirements. Therefore, if you have any concerns, please consult your vet before feeding anything new to your pet or altering their diet. Otherwise, feel free to treat them with dog-friendly snacks while you enjoy the festive season to come!