Throughout the country, we are already seeing the undeniable signs that winter is upon us! Though many of us relish the crisp, frozen mornings, the drop in temperature can present a couple of hurdles for our beloved furry sidekicks.
Much like in summer, we need to be aware of what risks the extreme temperature can pose to our pets and how best we can protect them.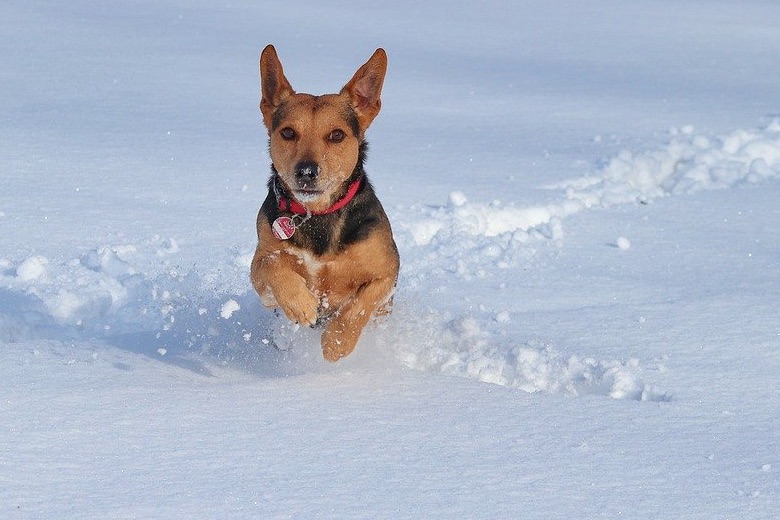 Preparing Your Pets for the Cold Snap
Most cats aren't well suited to life in cold weather, therefore, it will likely be very easy to convince your moggy to stay indoors. If you are in an area with feral cats, you may want to set up a small nest for them in a garage, barn or similarly covered space.
These inexpensive shelters can be life-saving on cold nights, and they are really easy to set up, using only a few materials such as cardboard boxes and straw, or old linen. Similarly, make sure that pets who are kept outdoors for any length of time have somewhere warm clean and dry to snuggle up in.
If you own a car, do also make sure to check your engine for sleeping cats. During colder months, felines have been known to crawl up into cars as they are warm and enclosed. To avoid injuring a potentially sleeping cat, always check underneath your car, under your bonnet, and under your wheel arches. You should consider blaring your horn or slamming your doors to scare off any potential hiding moggies. To avoid your cats adopting this method of warmth-hunting, it may be worth simply keeping them indoors.
Small, very young, geriatric or ill animals tend to feel the cold quite deeply. The same applies to those with thin coats. Therefore, it's best to equip them accordingly. Fortunately, with the rising trend in pet fashion, it's easier and cheaper than ever to find your pet an appropriate winter coat.
Cats and dogs alike should be kept out of the cold as much as possible. Avoid long walks on very cold surfaces as they can be uncomfortable and even quite damaging to your pet. Try to keep walks short, and abstain from walking in the early morning. This should give the ground and paths a chance to defrost a little.
Be Smart on Grit
Although the road-gritter is now a common and often welcome sight to anyone who commutes to work, it's worth being aware that rock salt and road grit can pose a significant risk to our animal companions.
For one, walking on gritted surfaces can be an uncomfortable experience which will lead many pets to try to lick themselves clean. Here lies the problem - as the salt portion of the grit could lead to sodium chloride poisoning.
Unfortunately, it's impossible to say exactly how much grit your pet would have to be exposed to for it to prove toxic or even fatal. It can depend on many factors, including the health and age of your pet.
Ingestion of rock salt could lead to severe kidney damage and, in extreme cases, can be fatal. Try keeping an eye out for excessive thirst and or urination, as well as extreme sleepiness and vomiting. Should your pet present any of these symptoms, contact your vet immediately, and explain what you suspect has happened and when. This can help your vet choose the appropriate tests and treatments quickly.
If you must walk your dog in an area you suspect has been gritted, there are a couple of methods you can employ to protect your pup:
* Dog Booties. These are super-efficient at protecting your pup's paws from both the extreme cold and grit. They are widely available both in pet shops and online.
* Paw Balm can help prevent your dog's feet from becoming dried out and from cracking. Be sure to apply both before and after your walk
* Washing. The most cost-effective, but potentially challenging option! When you come in from your walk, dip your pup's feet in some lukewarm water and dab dry with a pet towel. If your dog enjoys bathing as much as the next canine… then good luck!
Unfortunately, there are fewer options for cats, and it can be hard to monitor them if they leave the house regularly. If your feline buddy does venture outside, be sure to always wash their paws upon their return… once again, you're going to need to break it to them gently!
Avoiding Antifreeze
During winter, many of us are going to depend on antifreeze to make sure our vehicles are running properly. However, if swallowed by an animal, the effects could prove fatal – if not severely damage their kidneys.
It is, frustratingly, impossible to say just how much it would take for your pet to succumb to antifreeze – or, more specifically, the ethylene glycol within - as it depends on your pet's age, size, and current health.
Moreover, antifreeze has a sweet smell and taste, which can be enticing to pets. As is often the case, prevention is better than the cure, so here are a few tips to help:
* Where possible, store any antifreeze in a strong, sealed, and clearly labelled container.
* Store well away from pets. Preferably, do so in a cupboard or even in your car.
* Clean up any spillage immediately and keep your pet away from the affected area until you are sure it's safe.
* Dispose of antifreeze in accordance with your council's rules. Contact them directly for details.
If your pet has been exposed to antifreeze, they may start to show symptoms as soon as after 30 minutes. According to the RSPCA, you should watch out for the following symptoms:
* Vomiting
* Appearing intoxicated
* Lower mood
* Lethargy
* Seizures
* Breathing difficulties
If you do spot any of these symptoms in your pet, make sure to take them to a vet immediately. As the RSPCA rightfully states, the sooner your pets receive care, the more chance they will have of recovering.
Keeping Alert
Winter is one of the most dangerous times of year for people and pets alike. Make sure to read up on the above dangers for more details, and just take care to show your cats and dogs a little more love between now and February!