Anyone who owns a cat will tell you that they are endlessly curious. Cats and curiosity, naturally, come hand in paw – and that's why plenty of pets find themselves getting caught into many a scrape! Keeping a cat means keeping an eye out for all of their crazy adventures. That means making sure you don't have anything valuable on mantelpieces that they can weave through, and ensuring you don't have anything too shiny or interesting for them to bat around.
You may already have a scratching post or a few toys set up for your feline friend – but can you go one better? Many people have set up huge 'cat playgrounds' for their pets – which are not only spectacular to look at, but which will also provide your cat with endless opportunities to explore.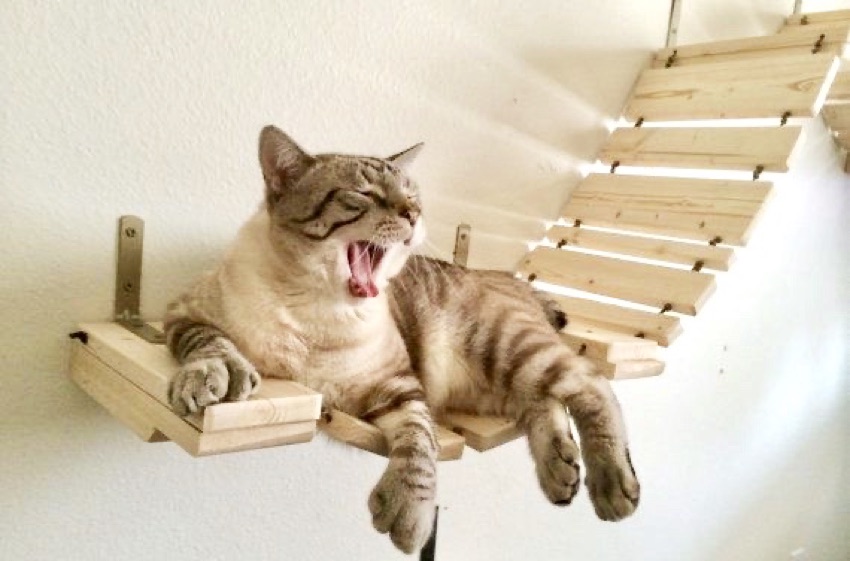 What Exactly is a Cat Playground?
The term 'cat playground' can be used loosely, but as its name suggests, it's a special area of your home set up for felines to have fun in. You can install jungle gyms, bridges, shelving and even special climbing walls for your pets to claw their way up and down. Cats love to get up high and in the tightest of gaps, which is why you can even install safe, fun shelving and cat runs which fit to your door frames and safely across the ceiling.
Cats love to climb towers and to poke their heads through various nooks and crannies. While a simple tower and scratching post may be enough, if your pet is particularly high on energy, it may be a good idea to set something a little more advanced for them. You could put up colourful obstacle courses with intriguing toys built in. You may even let them snaffle a treat or two along the way. Homedesignlover, for example, offers a number of creative indoor cat playground ideas.
Why Do Cats Need Playgrounds?
Not all cats behave the same, and some may not show any kind of interest in a playground. You'll probably already know if your fanged, furry beast is likely to turn their nose up at the idea! However, it's worth remembering that cats need a very particular type of attention.
When they need to burn off energy, cats will go exploring or hunting on their own. They require very solitary entertainment, at times, which obviously puts them at odds with dogs, who require much more human interaction and playtime. A cat will, more often than not, be very comfortable exploring and adventuring on their own, which means you can feel confident setting up a playground for them to play around in whenever they like.
As mentioned, some cats are lazier or more indifferent than others. However, for particularly young cats, a playground installation will very likely help to keep them busy and out from under your feet when you need them to be. What's more, it'll give them less reason to go poking around at ornaments or bits and pieces that they could otherwise damage. Many people choose cat architecture and creative playground solutions for this very reason. However, a seasoned cat owner may well tell you – if you like owning fancy things to keep on display, you probably shouldn't adopt a cat in the first place!
Where Can I Buy a Cat Playground?
Cat playground material can be found at most pet stores as well as online. Do make sure to ask specialists in chain pet shops, too, as they may be able to recommend certain brands or options to you. Alternatively, you could consider making a cat jungle gym or playground at home: WikiHow has a list of ideas. There are more options out there for your moggy than you might think!