It's safe to say that we've all seen a robin or two in our time! They're on almost every greetings card this time of year, and a garden visit from one of these British icons pretty much guarantees feelings of festive cheer no matter what the time of year. Their gorgeous bright red throats are instantly recognisable and their sweet song is so beautiful, they are frequently mistaken for nightingales.
We are, of course, specifically talking about the European Robin, also known as the Robin Redbreast. These lovely little birds were once thought to be members of the Thrush family, which, considering the number of similarities between the two species, isn't a surprise. However, it is now understood that robins are in fact part of a group known as Old World Flycatchers.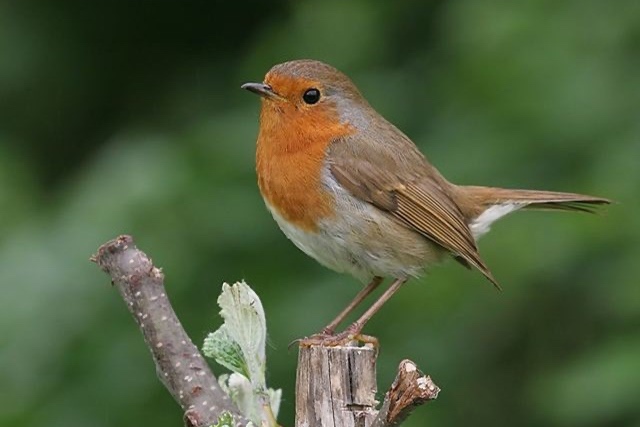 They are a common sight across the United Kingdom. The RSPB have even deemed them the nation's favourite wild bird. How much do you know about our small Christmassy friends? We all know what they look like, with their brilliant orangey red throats and chest, their white bellies and their olive brown wings and backs.
These small plump birds are almost spherical! The males and females of the species bear the identical markings, but the juveniles are more difficult to identify as they don't develop their iconic crimson plumage until adulthood.
Dogs are unlikely to come in to contact too frequently with your average robin, but domestic cats could be a different story, especially if they enjoy stalking birds in the first place!
There aren't too many concerns regarding pet behavior and robins, however, it pays to be cautious. All wild animals can carry parasites which may transfer to your pet. Also, if your feline is a talented enough hunter to catch a robin, their bones can pose a genuine hazard. Should your pet consume bones, they are at risk of choking, or developing digestive issues - as any swallowed bones can break and splinter.
Fortunately, there are a few things suggested by the RSPB that you can do to minimise the potential risk to both your cat and your local bird population.
* Firstly, put a bell on your cat's collar. This will help alert birds that a potential predator is close by. It's not just useful for you to tell where your moggy is in the house!
* If the weather has been particularly poor, try to keep your cat indoors for a while to allow nearby birds to come and feed safely.
* Try to keep your pet indoors for an hour before sunset and an hour after sunrise. This is often when birds are most vulnerable.
Although they are synonymous with Christmas, we are lucky enough to be able to spot robins throughout the year. Whereas some robins who inhabit very northern locations and very southern locations will migrate following seasonal changes, the seasons are mild enough for the UK population to stay put all year round. Therefore, don't be surprised to see a few bob-bobbing along during the spring!
A robin's diet is pretty varied. They mainly enjoy feasting on insects and worms, but they also enjoy fruits and seeds. They will even happily eat cake and other pastries and sweets if they are left unattended! They are very territorial and will defend their feeding ground quite aggressively. Therefore, be sure to set up a few bird feeders so that other breeds can get a look-in.
For more tips and ideas on how to encourage more birds to visit your garden and on how to protect them from resident moggies, make sure to visit the RSPB's website!