If your pets are anything like ours, they love the great outdoors! Every mud puddle must be swum in and each tree must be tested for scent, scratch-ability, and a bird-watching/hunting vantage point! It's only natural they encounter non-domesticated critters along the way.
British wildlife is fascinating - it's hugely diverse, and it's incredible to see how the various species have cleverly adapted to living on this increasingly modern and populated island. From the smallest spider to the migrating whales of the North Sea, our pets are perhaps more likely than ever to cross paths with the wild and wonderful!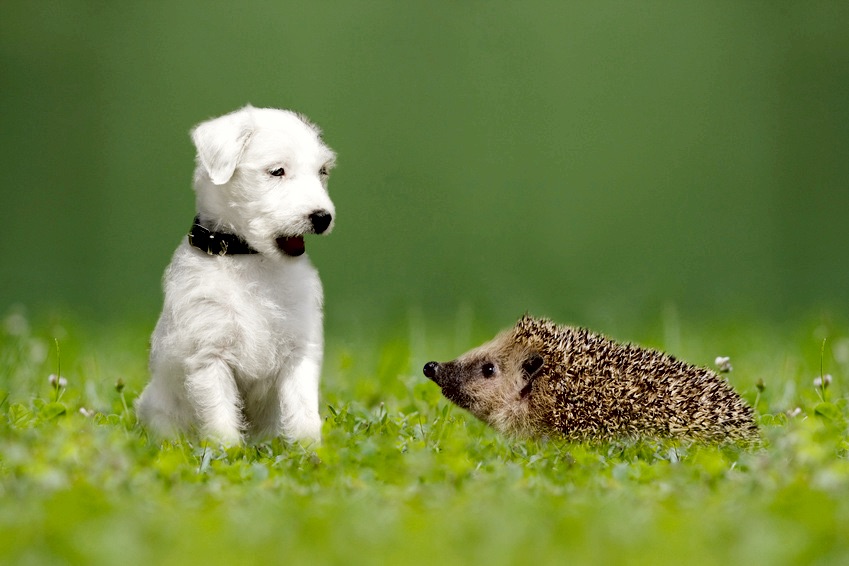 One of the most common wildlife sights throughout the UK is the hedgehog. Everyone is familiar with their spiky cuteness, and in fact, back in 2013, they were named Britain's wildlife icon by the BBC. It's undeniable that hedgehogs are an essential part of our eco-system. It's around this time of year that our pets are more likely to come across the odd hedgehog as they are often seen bustling about, feeding themselves up before snuggling down to hibernate through the oncoming colder months.
Hedgehogs get their name thanks to their unusual hunting habits. They rummage through undergrowth, particularly in hedges or shrubbery, searching for their favourite foods, as they do this they often produce quiet pig-like grunts. They primarily eat worms, snails, centipedes and other garden pests, which has given them the distinction of being known as the 'gardener's friend'.
They have been known to eat cat or dog food when the opportunity is presented, so if you live in a particularly urban area, or don't have much of a garden, leaving a bowl of wet dog/cat food out can help encourage a few spiny visitors.
Despite their increasing popularity, and pervasive presence, you may want to keep your pets away from any wandering hedgehogs for a couple of reasons.
Number one is that wild hedgehogs often carry parasites such as ticks, worms, and in particular fleas - all of which can be passed along to our animal pals. Sadly some illnesses suffered by hedgehogs can also be passed to our furry companions, so it's always best to encourage your pet to steer clear.
Perhaps the best reason to keep your pet away from your local hedgehog is their defence system. When you think 'hedgehog' you probably think 'spikes' - and with good reason - as each adult hog has about 5,000 long sharp spikes on their backs!
When alarmed, they curl up into a ball which protects their soft bellies, feet and faces and presents any would be predator or overly-curious kitty with the pointy end of their quills. Although these pins aren't venomous or barbed, if your pet has been a little over-enthusiastic and winds up with a quill or two stuck in them, it's best to get them to the vet to have them removed.
Hedgehogs are nocturnal, which means they have a fairly underdeveloped sense of sight and rely mainly on smell and hearing to forage. It is highly unusual to see a hedgehog out in the daylight and this can be a sign of distress. Whilst some species of hedgehog burrow into the ground to make dens to live in, many build themselves nests out of dry leaves and other materials.
With Bonfire season already here, it's worth bearing in mind that a dry bonfire of any size is the perfect home for a hedgehog. Therefore, if you are preparing to celebrate you're your own pile of twigs and sticks, do take a few minutes to check your wood pile before you light it in order to ensure no prickly friends haven't taken up residence.
If you do find a hedgehog, either in a bonfire, out in the daylight or you feel it may be distressed, here are a few tips on handling them:
* Use thick gardening gloves to gently pick the hedgehog up.
* Carefully place it in a high sided cardboard box with an old towel or fleece.
* Keep them somewhere quiet and away from small children and other pets.
* Provide fresh cool water and meaty dog or cat food.
* If the hedgehog is bleeding or clearly injured, take it straight to your local vet.
* For further advice, always contact the British Hedgehog Preservation Society on 01584 890 801. They will be able to provide advice and local contacts who will be able to assist.
Hedgehogs are indeed a common sight right now – but don't be so eager to let your cats or dogs go up to make a friend!